Inspiring Libraries: The Next Phase 2018-2021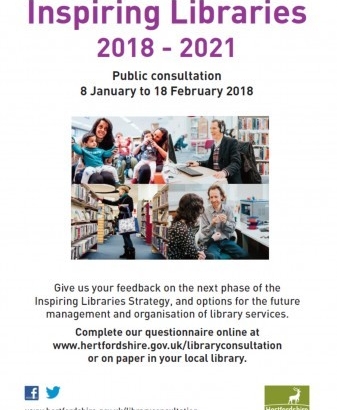 Hertfordshire County Council launched its 'Inspiring Libraries' Strategy in 2014, following an extensive public consultation, which attracted more than 15,000 responses.
'Inspiring Libraries' aimed to set a vision and direction for the service over the next 10 years, based on three main themes:
The library as a vibrant community asset – shaped with local people and partners to reflect local need, support sustainability and enrich communities.
The digital library – a service that is ambitious in its use of technology and digital formats for the benefit of residents.
The library as an enhanced gateway to reading, information and wellbeing.
Over the last few years, through our 'Inspiring Libraries' strategy, we have continued to invest in the development and improvement of services, despite the constraints on funding for local government.
However, ongoing pressure on the County Council budget means that we have to consider further budget savings across all services. In order to achieve our ambitions for 'Inspiring Libraries' within a reduced budget, and put ourselves in the best position to grasp future opportunities, we need to identify the most appropriate way of managing the library services in the years ahead, and we welcome your views.
A public consultation is taking place between 8 January and 18 February 2018 to seek customer and stakeholder views on our ambitions for the next phase of 'Inspiring Libraries, and the options for how we deliver the service. I am writing to you as one of our valued stakeholders to seek your views and assistance.
Residents and stakeholders alike can participate by completing a questionnaire either in one of Hertfordshire's libraries or online. The full consultation document and the online questionnaire is available at www.hertfordshire.gov.uk/libraryconsultation